Posted by:
LC JackBoot IC/A-OBR
in
Losses
,
Never Forget
,
Support Our Troops
,
The Tip of the Spear
A Navy SEAL sacrificed his life to save his comrades by throwing himself on top of a grenade Iraqi insurgents tossed into their sniper hideout, fellow members of the elite force said.

Petty Officer 2nd Class Michael A. Monsoor had been near the only door to the rooftop structure Sept. 29 when the grenade hit him in the chest and bounced to the floor, said four SEALs who spoke to The Associated Press this week on condition of anonymity because their work requires their identities to remain secret.

"He never took his eye off the grenade, his only movement was down toward it," said a 28-year-old lieutenant who sustained shrapnel wounds to both legs that day. "He undoubtedly saved mine and the other SEALs' lives, and we owe him."
He saw the threat and acted, without hesitation or concern for himself to protect his friends. No time to consider the alternatives, organize a protest or conduct a poll.
That brave young man seized the moment sacrificing himself to save his brothers.
Monsoor, a 25-year-old gunner, was killed in the explosion in Ramadi, west of Baghdad. He was only the second SEAL to die in Iraq since the war began.

Two SEALs next to Monsoor were injured; another who was 10 to 15 feet from the blast was unhurt. The four had been working with Iraqi soldiers providing sniper security while U.S. and Iraqi forces conducted missions in the area.

In an interview at the SEALs' West Coast headquarters in Coronado, four members of the special force remembered "Mikey" as a loyal friend and a quiet, dedicated professional.
Of course, he had duties to carry out, to his G_d, Country and Family. He volunteered for military service and competed to receive an appointment to stand with the most elite fighting unit of the United States armed forces.
"He was just a fun-loving guy," said a 26-year-old petty officer 2nd class who went through the grueling 29-week SEAL training with Monsoor. "Always got something funny to say, always got a little mischievous look on his face."

Other SEALS described e Garden Grove, Calif., native as a modest and humble man who drew strength from his family and his faith. His father and brother are former Marines, said a 31-year-old petty officer 2nd class.
Petty Officer Monsoor had his priorities in order as did his forebears.
Prior to his death, Monsoor had already demonstrated courage under fire. He has been posthumously awarded the Silver Star for his actions May 9 in Ramadi, when he and another SEAL pulled a team member shot in the leg to safety while bullets pinged off the ground around them.

Monsoor's funeral was held Thursday at Fort Rosecrans National Cemetery in San Diego. He has also been submitted for an award for his actions the day he died.
Need a definition of hero?, read that again. I pray the military and congress see fit to award this man, this American Hero, the Congressional Medal of Honor.
Not that he would care. If we could speak with him now, his concern would be for his teammates safety. "Are my buddies, OK ?"
The first Navy SEAL to die in Iraq was Petty Officer 2nd Class Marc A. Lee, 28, who was killed Aug. 2 in a firefight while on patrol against insurgents in Ramadi. Navy spokesman Lt. Taylor Clark said the low number of deaths among SEALs in Iraq is a testament to their training.

Sixteen SEALs have been killed in Afghanistan. Eleven of them died in June 2005 when a helicopter was shot down near the Pakistan border while ferrying reinforcements for troops pursuing al-Qaida militants.
A testament to their efficiency at visiting sudden, violent death on their enemies as well. You can be certain our enemies know who these fierce, deadly warriors are.
They also know the rampant cowardice of many of their civilian leaders, media and the traitorous left.
There are about 2,300 of the elite fighters, based in Coronado and Little Creek, Va.

The Navy is trying to boost that number by 500 — a challenge considering more than 75 percent of candidates drop out of training, notorious for "Hell Week," a five-day stint of continual drills by the ocean broken by only four hours sleep total. Monsoor made it through training on his second attempt.
Undaunted by his first attempt, Monsoor worked with more determination and guts to finish his call to duty. That's commitment and honor.
Imagine for a moment, if Mike decided to give up after his first failure. Would another SEAL be with that unit, that day and that time have acted in the same way. The answer is yes, because that's what our heroic soldiers, sailors, airmen and marines do.
But let's imagine the unit had a open position. How many lives would change if he wasn't there that day?
When you pray tonight and go to church tomorrow, remember these images of Petty Officer Monsoor: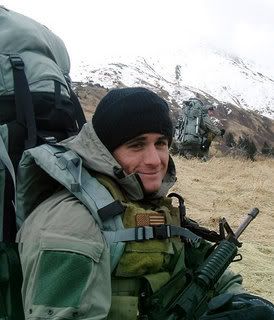 We sit here at home, safe and comfortable, debating the "rights" of our sworn enemies, embroil ourselves in whose party deserves reelection and TiVo "Dancing with the Stars".
These men jump on grenades to save their comrades and expose themselves to 1001 different ways of dying brutally, far from home and family.
The answer to the question is here in America. They can be found in our homes, workplace, churches and thousands of other places. They are our sons, daughters, fathers, mothers, uncles and parents…in short, our countrymen.
Ask G_d from your knees, if you are worthy of his sacrifice and the others that have gone before and will go later?
Michael, rest your mortal coil in peace amongst your brothers in that garden of stone.
Another brave young man goes to his reward in the Father's Mansions, guarding the Gates of Heaven. An AMERICAN SOLDIER.
Requiescat In Pacem, SEAL. Well Done, Well Done.
[Ed. Note: Added additional photo above-JB]
54 Comments »