Posted by:
DJ Allyn, ITW
in
Open Thread
1:54 AM
It is that time of the week again.  It is time for my totally off-key open thread.  I will throw out a couple of topics just to skid the grease (a weak pun):
So we have Larry "I'm not gay" Craig who was pretty much forced to step down by the rank and file Republican caucus because he became a black eye on the Republican Party.
Common quotes (and I will graciously paraphrase) went something like this:
"He needs to resign for the sake of the Party"
"His act was a disgrace and badly reflects on the [Senate] [Party]"
"He is guilty of a crime, and needs to step down"
"He pled guilty to a crime and should resign"
Virtually everyone insists that they aren't against Larry Craig because he is (OR IS NOT) gay.
Now you all know me — not one to shy away from pointing out some kind of double standard…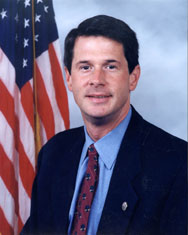 What about David "The Diaperman" Vitter, (R-LA)? 
Wasn't he recently discovered to be involved in paying for prostitutes, not to mention some pretty kinky (and more than a litttle "eeewwww!) activities?
Is there a little double standard going on, or is there something else preventing the Jetison of Mr Huggies?
Some are saying that while Vitter's "sin" was basically heterosexual — and therefore within the Party handbook, while Craig violated the unwritten law that says you can be gay but don't act upon it.
Sounds a little too simplistic to be true,  but there may be a tiny few who think that way.
Others are saying that since Craig is coming from a predominately Republican state (probably the MOST Republican state), with a Republican governor, there is nothing lost by removing him from office and plugging another Republican Senator in there.
But in David Vitter's case, he comes from a predominately Democratic state with a Democratic governor, and she is likely to appoint a Democrat to his seat if he were forced to resign.  That would mean the Republicans would lose a valuable vote in the Senate.
I am going (mostly) with the second reason.  I am sure that Republicans would love to get rid of Vitter if they didn't worry about losing a vote.
For the record, and since I am sure someone here is going to bring up the name Kennedy or Barney Franks:
As a American, I feel
If you violate the law, you should either resign or be forced out of office — regardless of your Party affiliation;
If you are caught in a lie – you should be removed from office;
If you are caught in immoral behavior — (say it with me) removal from office 
If you promised one thing to get elected, and you vote something else, — the voters deserve a recall.
Anyways, that is a topic I threw out there.  You are free to kvetch about anything you wish.