Posted by:
LC JackBoot IC/A-OBR
in
Good News
9:01 AM
LC Mrs. M, a fine wielder of the ClueBat, posts an excellent article on a young AMERICAN, Riley Woina and his lifelong dream, made possible by the Make-A-Wish Foundation. Trip to see the Mouse?…..nope… RANGER Training. He's only 14, but a man, by any standards.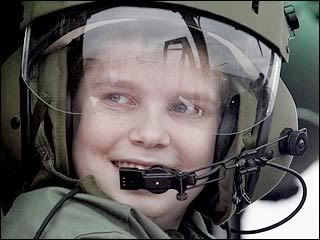 For all the MurthaLovin Traitors: This kid has more balls than YOU will ever have.
Posted by Mrs. M

One again I went perusing the daily news articles, not intending to post about anything when this one jumped up and grabbed me by the hair of the head.
Go read the whole post and article HERE. That is an ORDER.
G_d Bless you Riley and the fine Americans you trained with.
Thanks for the catching this one Sis.
[Update: I just got a call from my youngest male heir, a PFC with the 3rd ID, 4th Brigade, 6-8 Cavalry Regiment, Charlie Troop at Ft. Stewart. They finally got their deployment orders. Late August/Early September, destination: undisclosed location and duties south of Baghdad.–Proud Dad JB]