Posted by:
LC JackBoot IC/A-OBR
in
Words of Wisdom
3:36 PM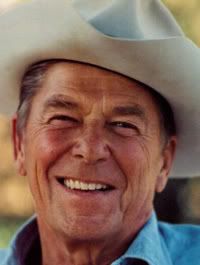 Today marks the third anniversary of the passing of one of the greats, Ronald Wilson Reagan. Amidst our busy days, perhaps a moment of silence in his memory is in order.
The eulogy for a much better man than any of us could ever hope to be:
"Pious, just humane, temperate, and sincere;… dignified, and commanding; his example was as edifying to all around him as were the effects of that example lasting… vice shuddered in his presence and virtue always felt his fostering hand. The purity of his private charter gave effulgence to his public virtues… Such was the man for whom our nation morns." —John Marshall
A great tribute to Ron's legacy can be found over at the Patriot Post by Publisher Mark Alexander: The Twilight's Last Gleaming
We miss you Ron, and swear by all that is good and worthy, to do our best keeping alive this "Shining City On A Hill". Remember friends we all stand on the shoulders of the great.